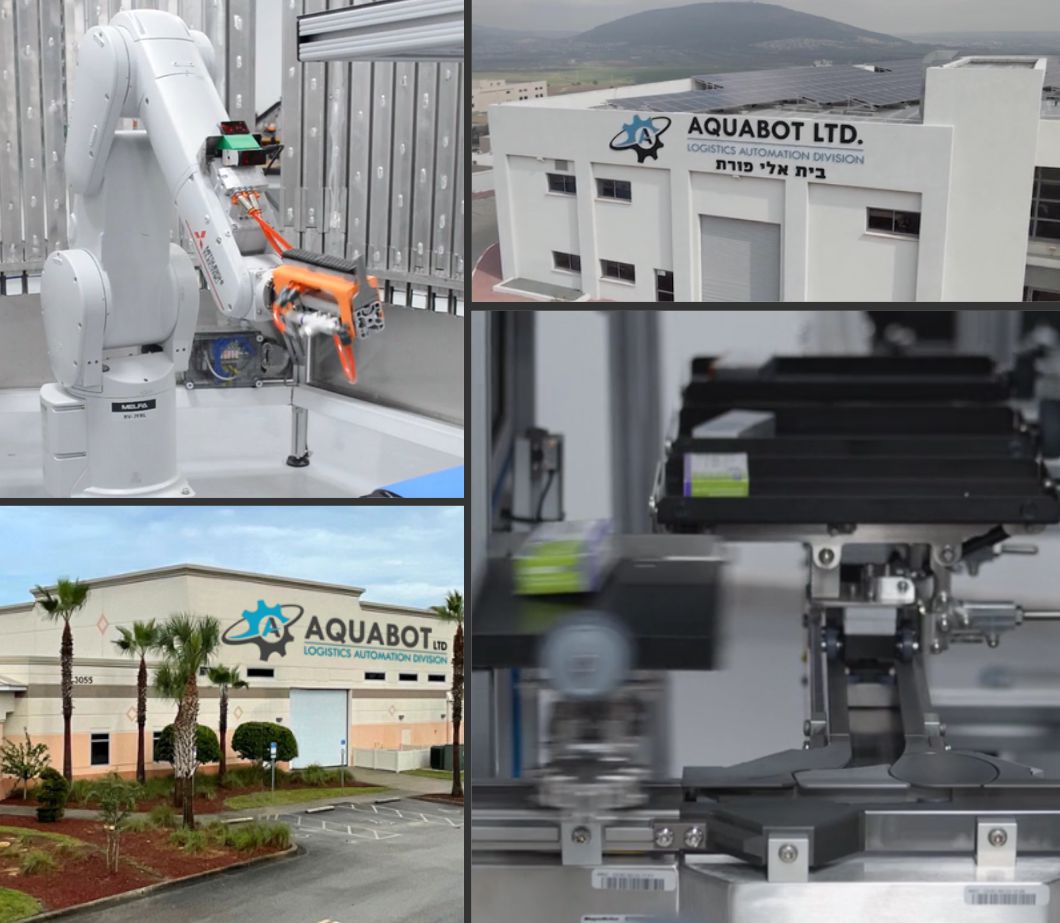 Aquabot Automations is based in Alon Tavor Industrial Zone, Israel.
Approved and supported by the Chief Scientist of Israel, Aquabot's solutions will improve your whole order fulfillment process – from the minute the order is received to the moment you deliver it.
With over 40 years of experience in robotics, Aquabot Automation was created to help boost order fulfillment capabilities while reducing footprint, labor and maintenance costs.
Unlike other companies that try to sell you a piece of off-the-shelf machinery that is a fixed and inflexible solution, we design our solutions to be flexible and modular.
Each machine is tailor-made to your specifications and it can easily be adjusted to meet every need, process and regulation today and into your future growth.
If you are looking for an automatic cutting-edge, high-speed, high-volume, highly accurate order fulfillment, picking and sorting solution, you are in the right place.
THE PEOPLE WHO MAKE MAGIC HAPPEN
Yigal joint the company in 2019.
He brings 35 years of experience in which he held many positions, from R&D engineer up to CEO, in large size production companies, such as Paper Product Manufacturing, Persona Israel and Israel Shipyards.
Included in his experience are 5 years in Start-up Technological and Cosmetics companies.
Yigal has a Mechanical Engineering Degree from Haifa Technion, Israel's Institute of Technology and an Executive MBA (EMBA) from Bar-Ilan University in Ramat Gan, Israel.
Yiftah has worked with the company since 2008 and brings many more years of experience as CFO in large and medium size public companies in Israel.
Yiftah has a BA in Accounting and Information Systems from Queens College of the City University of NY. He also holds a dual CPA licensed in New York State and Israel.
Yiftah worked as a CPA at Arthur Andersen, Deloitte & Touche and is experienced with IPOs and secondary public offerings.
David has worked with the company since 2012.
Davids vast experience includes R&D manager, VP of engineering & VP of supply chain, in medium-size production companies, such as Carmo Chrom and Gabrieli Technical Supplies.
He holds a Practical Engineer degree from Haifa Technion, Israel's leading Institute of Technology.
Has decades of experience developing companies and businesses of all sizes – sole proprietorships to publicly traded corporations – from the ground up.
Worked with companies in several diverse industries including Agricultural, Retail, Wholesale, and Pharmaceutical overseeing teams of hundreds of employees in markets all across the country and globe.
Karl brings logistical, process and business development expertise to Aquabot as we look to aggressively expand our global reach.
Shay has 5 years of experience with the company and manages our Mechanical engineering department.
Shay has over 8 years of experience in designing, developing and building different kind of machines, from Armored vehicles and heavy-duty machines to Sorting & picking, very accurate systems.
He holds a B.Sc. in Mechanical Engineering degree from ORT Braude College of Engineering, Karmiel.
Tal is working with the company for 3 years and manages the Electrical & Control department.
He has a vast experience in automation process, programmed control logic (PLC), motion control and in electrical components. He has years of experience with medium-size companies in different industries such as Netafim, Teldor cables&systems & Phoenicia glass industries.
Tal holds a BSc in Electrical engineering from the Jerusalem College of Engineering (JCE).
READY TO BOOST YOUR ORDER
FULFILLMENT CAPABILITIES?
CONTACT US to get your free 60 minutes analysis and consultation with Aquabot's experts.